The workloads of business teams in both large and small businesses continue to be impacted by back-office processes. Nothing is more difficult than wanting to focus on profitable company tasks but being compelled to spend time on Back office support services. The actual cost is borne by the bottom line; this irritation is just the beginning. Because of less efficient back-office operations, Fortune 500 businesses are known to squander an estimated $480 billion.
Some people could take into account a company's capacity to perform its duties while continually expanding its activities. After all, administrative labour isn't normally the most well-known position, so you don't frequently consider a company's capacity to modify its operations.
Read More: Invest in your business with Back office support services
Outsource back office activities to maintain a business's operations. As the name suggests, the majority of the work done in the back office is work that is not visible to current or potential clients of your business. These include tasks that don't need your staff to interact with clients, such as human resources and accounting procedures.
Your company's success depends on these back-office activities since they free up your sales staff and other client-facing divisions to concentrate on their jobs. Any business will struggle to function at its full potential without a competent back-office crew handling the IT infrastructure or the company's taxes.
Your company may need to raise its operational size, but its back office departments lack the staff to handle the added workload. You should probably start thinking about using back-office outsourcing services right away.
Back-Office Outsourcing Definition
Outsourcing of back-office functions is as simple as its name implies. Businesses of many sizes and in a variety of sectors look for third-party companies to handle some of their back-office duties. These outsourcing organisations have the necessary infrastructure and people to take over these tasks, allowing businesses to concentrate on their core competencies while earning revenue and profits.
The ability to delegate such crucial tasks to skilled businesses relieves businesses greatly and enables them to concentrate on branding, customer support, and other revenue-generating operations. You may concentrate your efforts on expanding your business by outsourcing crucial clerical tasks, whether you're ramping up operations or streamlining your organization's process.
What advantages would there be to outsource back office?
For bigger businesses, the choice to outsource back office operations to a reputable Business Process Outsourcing (BPO) provider has long been the answer to this problem. Nowadays, small to mid-sized businesses may benefit greatly from outsourcing back-office functions as well. To start, a team of 1-2 people for accounts payable, for instance, can significantly reduce the amount of time and money spent on accounting. Even though each company's exact back-office procedures differ depending on its size and sector, practically all significant businesses may gain generally from outsourcing their back-office requirements. They include crucial office procedures including bookkeeping, data gathering, data entry, order processing, market research, and more.
The advantages of outsource back office support services provided by a BPO partner include the following: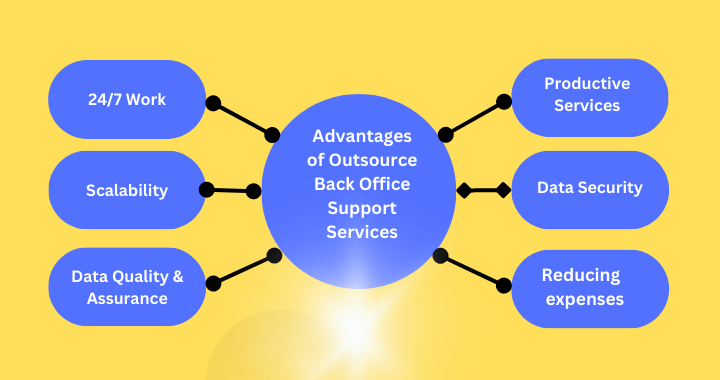 Although back-office support is crucial to the operations of the entire business, your personnel simply lacks the means of transportation. Back-office outsourcing steps in to help in the situation. Along with keeping everything organised, it may also help you save a tonne of money.
1. 24/7 Work: For the simple reason that initially, the administrative workload does not appear to be a lot to manage, many businesses ignore back-office inefficiencies. But, as they expand, businesses often find that their back office operations have become one of their biggest issues. Sales and marketing are often the areas that keep business owners up at night, but frequently they are letting the incorrect kinds of duties take up their time instead of attending to the more crucial strategic job. Back office support services outsourcing significantly reduces the strain on your business and boosts productivity and efficiency, taking it to new heights. Also, organisations can manage their resources more effectively, which boosts sales and profits.
2. Scalability: Outsourcing assists companies in creating innovative solutions for online shoppers, online retailers, and online marketplaces. A professional outsourcing company increases your company's scale in terms of profit, productivity, growth, etc. as a reliable back-office outsourcing partner. The output of the selected back-office process outsourcing provider directly contributes to the expansion and development of the business. Moreover, an outsourcing company manages the hiring and training procedures, better supporting the company.
3. Data Quality & Assurance: A major advantage of back-office outsourcing is that, as your dependable BPO partner, will improve the quality of data collection, storage, and administration. To make all back-office operations and procedures hassle-free for you and your organisation, outsourcing companies simplify all data-related activities in both their initial and final phases.
4. Productive Services: Access to qualified personnel, the most cutting-edge technology resources, high-quality productive services, and more are some other significant benefits of back-office outsourcing for businesses. In addition to providing back-office assistance, outsourcing businesses place a strong emphasis on performing support tasks using the newest technology and offering training to their employees so that they can produce the output on time.
5. Data Security: Data security is another benefit of outsourcing back-office tasks. The most crucial duty here is to select a service provider partner who places a strong emphasis on preventing data leaks of any kind and maintains an eye on security precautions. To ensure that your important business data is kept safe, outsourcing companies employ the highest security standards.
6. Reducing expenses: Just improving your bottom line is one of the top reasons to outsource back office support. It costs money and takes time to upgrade the infrastructure needed to control back-office operations. When you build it, the cost of maintaining this infrastructure may be quite significant. Labour expenditures, staff turnover, investments in the most recent technology, and training add up to a substantial and steadily increasing sum that can dwarf many of your other business expenses.
Using back office support services with expertise
One of the most outsourced contact center services in the business area is back office assistance. Since that back-office assistance is a crucial operation, outsourcing these tasks is seen as a suitable option to gain more freedom and concentrate on important work processes.
Back office outsourcing services provide businesses with the power to establish new departments that will directly affect their performance and future growth. We are one of the innovators dedicated to providing favourable back-office solutions. At Noida Exim, we strive to provide faultless outsourced goods across a variety of disciplines to our esteemed clientele. Our primary areas of expertise in back-office support services are listed below:
Noida Exim will end your search for a reliable partner to handle your Back office support services. Feel free to contact us as soon as possible to learn more about our services and to find out how we can assist your business in reaching a new level of expansion.