Managing a company model is a major job, and it becomes even more difficult to keep up if you're in a competitive industry. Call center outsourcing looks to be a competitive alternative for millions of businesses today. After all, why not? Outsourcing call centers is the ideal solution to all the problems of growing a business.
It's grown increasingly difficult to keep up with groups. Organizations recognize the need for outsourcing and customer service. Customer service earns benefits sooner. To make a better comparison with others who finish their operations and responsibilities later. Have you decided to outsource certain aspects of your business to call center outsourcing firms?
Companies are actively investing in call center technologies and infrastructure as the business environment becomes more competitive and customer service becomes an increasingly important factor in business success. Nevertheless, many businesses choose call center outsourcing over spending the time and money to set up their own call centers.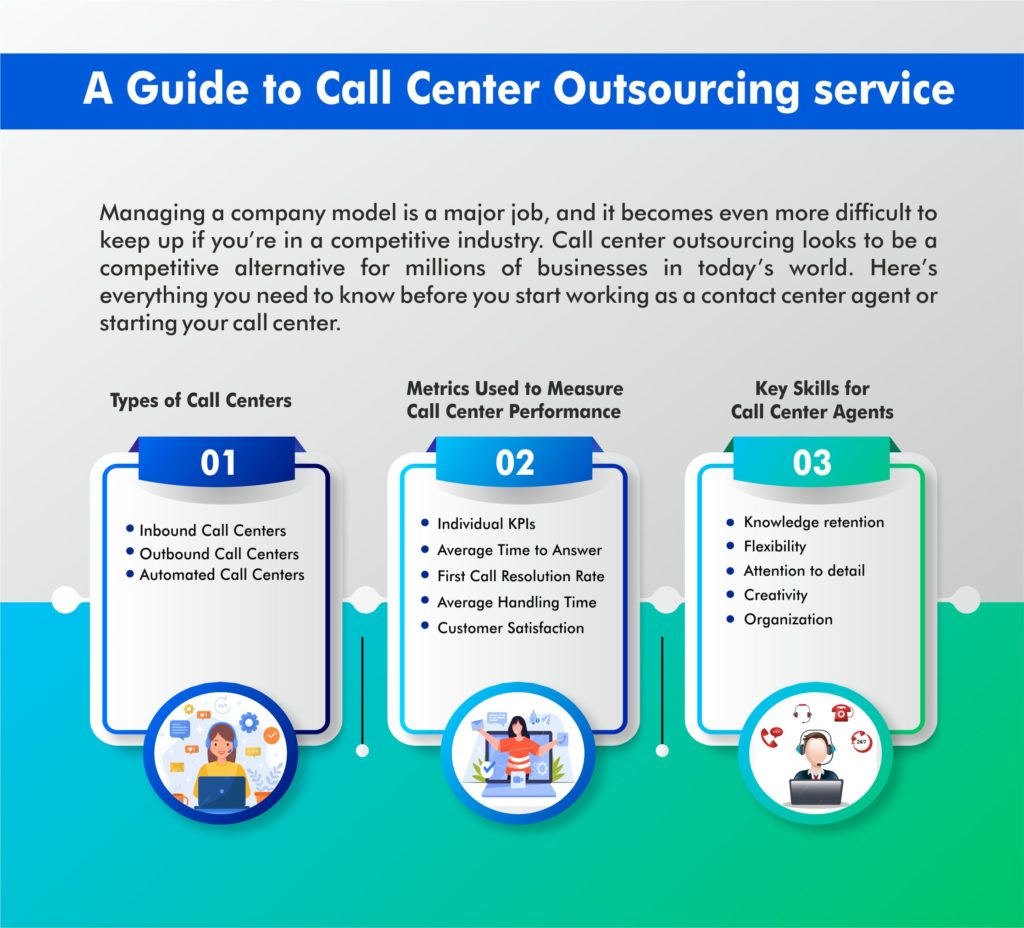 Call Center Outsourcing Benefits
When management outsources its customer support or communications operations to a third party, known as a call center outsourcing service provider, it is a strategic and sensible business decision or a type of remote employment.
Customer communications such as complaint resolution, product marketing, payment reminders, installation assistance, and other services are included in call center outsourcing.
In this kind of customer service management, the outsourced call center will be in charge of setting up the necessary facilities, hiring qualified staff, providing them with the necessary training, and satisfying the customers' needs.
Organizations may scale their operations, improve customer service, spend less on equipment, and save money by outsourcing their contact center operations.
How Does an outsourcing call center Operate?
By outsourcing your call center operations, you can reduce costs for your company without sacrificing revenue or customer happiness. Depending on the service you select to meet the needs and objectives of your organization, your outsourcing strategy will operate differently. When choosing a service, consider what your organization wants and choose the outsourcing provider that can meet those specific needs.
Businesses would typically encounter one of two scenarios before beginning to look into call center outsourcing. While some businesses are aware that they have expanded to the point where they need assistance managing consumer inquiries, they do not want to incur the additional costs associated with recruiting extra workers. Other businesses already have in-house call-handling programs, but the costs to maintain them have accumulated to the point where it makes sense to look into more affordable choices.
Call center outsourcing service begins with a chat once the problem area has been located. To learn more about their alternatives, businesses contact outsourcing firms. Goals and methods for achieving them are under discussion.
The outsourcing partner then writes a customized call script that includes references to the client's policies and processes. After that, the customer service organization trains its staff to manage communications for the company. This enables businesses to concentrate their time and efforts on their strengths while making sure their clients have wonderful experiences.
Solutions for outsourcing call centers can be highly diverse and individualized. Some take care of all incoming calls for their outsourced partners, resolving caller inquiries and issues. Other tasks include making cold calls, scheduling meetings, generating prospects, and conducting market research. There are several customizing choices, and the changeover is frequently smooth. Customers frequently are unaware that they are conversing with third-party call center outsourcing companies.
Here's everything you need to know before you start working as a contact center agent or starting your call center.
Cost-Effective
It should be no surprise that using an outsource call center is cost-effective. The most important attribute that attracts businesses is cost-effectiveness. They don't have to invest in establishing a contact center's infrastructure, equipment, and other necessities. Rather than building captive centers, the corporations spend the same amount of money hiring more convenient and accessible call center suppliers.
Great Productivity
Because contact centers are tasked with carrying out the client's instructions, they are obligated to carry out every one of them, resulting in increased production and efficiency. They handle all duties, projects, and operations with the highest responsibility, and they do it with total devotion and obedience.
The evolution of the world
If your company operates on a global scale, you likely have many consumers from many nations and areas. As a result, hiring an established call center outsourcing company may be quite beneficial because they are already trained in dealing with various consumers relevant to your organization. It eliminates the language barrier, allowing your organization to expand internationally.
Growth and Flexibility
Another advantage of using an outsourcing call center is that it allows you to focus on other aspects of your business. You may handle a variety of other party services, introduce new items, and develop your business as much as you want without having to worry about customer service. As a result, your firm will flourish and get market visibility.
24/7 availability and enhanced customer support
Customer satisfaction is a top objective in running a successful business, and to meet your customers' expectations, you must communicate with them regularly. An in-house setup might be problematic because you will be providing customer assistance for restricted hours. If you outsource the same task to a call center, on the other hand, you can service your clients around the clock. Furthermore, contact centers that are motivated to provide customer care and assistance will do so diligently, improving and satisfying the graph of your customer service.
Better Services and available on demand
Using an outsourcing call center will undoubtedly give you excellent results. They've been hired to fulfill your criteria. You are the client, and they are the service provider in this case. As a result, they are guaranteed to keep you pleased and satisfied to preserve your contract with them. As a result, they will go above and beyond to meet your needs and ultimately provide you with great services.
How do you determine whether to outsource your call center requirements?
For the sake of convenience and speed, the majority of firms will opt to outsource call center services. By outsourcing, you can avoid spending money on the equipment, personnel, and training needed to run a contact center. The flexibility to serve clients throughout the globe is another benefit of outsourcing, making it a desirable business strategy for many multinational corporations. There is also the added benefit of leaving the management of your brand and customer experience reputation to seasoned professionals whose main concern is customer service.
Three essential pointers for better call center performance
One of the many advantages of choosing call center outsourcing companies is the chance to grow your business. Since many call center personnel are bilingual, your business can communicate with callers whose first language may not be English. Inclusion like this is crucial for the contemporary consumer experience. Offering customer assistance in languages other than English is a shrewd move for some businesses and a need for others as the United States continues to become increasingly diverse.
Many sectors, including e-commerce, healthcare, and aviation, already use call center services. Nevertheless, it wouldn't be unexpected to see most businesses, regardless of industry. In light of this, everything depends on your company's needs.
1. Choosing a requirement:
Embracing Call Center Outsourcing India takes a lot of time and effort; make sure it's not all for naught by discussing your wants and requirements with them. Discussing your issues and requirements is critical when you decide to outsource your call center.
2. Excellent research:
You cannot entrust your power to someone unworthy, and to assess their value, you must conduct extensive study on them. For example, the availability of a website, partnership with other businesses, and so on.
3. Inquire about their offerings:
Learn about the technologies and tools they've been using and how they plan to handle the situation, such as their normal wait and hold times. If the vendor is good, they will already have all of the answers to your questions.
Aside from them, look for more references and reviews, and find out how long they've been in business. Inquire about the call center agents, for example.
To sum it up
Outsourcing your call center is both cost-effective and efficient. BPOs and call centers have become the ideal medium for marketers to continue operations. As a result, be astute in your selection of outsourcing call centers.
A competent Call Center Outsourcing India business will handle all the work, ensuring a successful conclusion and long-term market sustainability. The BPO industry offers a wide range of operations and services, allowing you to grow your business to new heights.
It may appear that outsourcing requires a lot of work to start, but this isn't entirely true. All of your efforts will be rewarded once you start doing it. Your dedication and determination will propel your company into the path of perpetual success and money.
Frequently Asked Questions
What do you mean by outsourcing call centers?
When company A chooses to outsource its call center operations to company B, a company that specializes in this field, the process is known as call center outsourcing.
How much does outsourcing call centers cost?
The price of outsourcing call centers varies by area. For instance, call center outsourcing in India costs $5 to $15 per hour. However, this expense also varies based on the call campaign's nature, the contract's length, and other elements.
What are the benefits of outsourcing call centers?
Some of the biggest benefits of a call center service provider is the ability to spend more time on important business tasks, enhanced call center management, increased efficiency, and increased brand value.
What is call center outsourcing?
Call center outsourcing is the practice of hiring a third-party company to handle inbound and outbound customer interactions such as phone calls, emails, and chat messages.
What are the benefits of call center outsourcing?
The benefits of call center outsourcing include cost savings, access to expertise, scalability, and increased focus on core business.
What types of services do call center outsourcing companies offer?
Call center outsourcing companies offer a range of services, including inbound and outbound calling, email support, chat support, technical support, sales support, order processing, and telemarketing.
How can I choose the right call center outsourcing company for my business?
To choose the right call center outsourcing company for your business, consider factors such as the company's reputation, experience, service offerings, pricing, and technology.
How much does call center outsourcing typically cost?
The cost of call center outsourcing varies depending on the services required, the size of the team, and the location of the outsourcing company. However, outsourcing to a call center company can be much more cost-effective than maintaining an in-house call center.
How do call center outsourcing companies ensure quality?
Call center outsourcing companies ensure quality through dedicated quality assurance teams that monitor and analyze call center operations to ensure high levels of customer satisfaction.
What are the advantages of outsourcing call center services to India?
India has become a hub for call center outsourcing services due to its large pool of skilled workers, favorable business environment, and competitive pricing.
What are the risks of call center outsourcing?
The risks of call center outsourcing include language and cultural barriers, data security risks, and lower quality of service from some outsourcing companies.
Can call center outsourcing companies provide multilingual support?
Yes, many call center outsourcing companies offer multilingual support to accommodate customers in different regions and languages.
How can I ensure a smooth transition when outsourcing my call center services?
To ensure a smooth transition when outsourcing your call center services, communicate clearly with the outsourcing company, provide detailed training materials, and monitor the transition closely to ensure that operations continue smoothly.