A significant global disaster, Covid-19 has affected and disrupted several corporate activities all over the world. It has stopped office activities because of its propensity to spread. The majority of internal back office outsourcing services have felt the effects. Because their back office service providers didn't live up to the expectations and promises, several firms have been compromised. But since everyone is at fault, it is difficult to point the finger at anyone. Making a successful back office plan has become exceedingly challenging as a result of this circumstance.
Major corporations have found that their problems may be solved by outsourcing back office tasks to an experienced BPO. Even small and medium-sized businesses may benefit from outsourcing. Regardless of your sector or business size, outsourcing your back-office tasks has several benefits.
The Changing Criteria for Selecting Back Office Outsourcing
The many criteria used to choose back office outsourcing services are evolving along with the world as we know it. If you wish to outsource back office, you should focus on the following qualities in your potential vendor:
Flexibility in light of evolving legislation
Numerous new health and medical regulations have been created as a result of COVID-19. Sanitation, cleanliness, and social isolation in the workplace have all become essential factors. Although rules differ from nation to country, practically all regulatory bodies in the world refer to the WHO-specified guidelines. The use of a vendor who complies with regulatory requirements and is adaptable enough to adjust operations in response to changing circumstances is therefore vital.
Operational resilience
The employment of software, people, and hardware is essential to back office activities. Data entry tasks need commitment and never-ending work. Therefore, even in difficult circumstances, the vendor must guarantee the same degree of job quality. The secret to success in these difficult times is operation resilience in terms of all usable resources.
Back office support services and automated workflow have already moved to the cloud environment in India and other BPO-specialized nations. Outsourcing providers can continue their operations even when the office is closed because of the redundancy provided by the cloud platform. To reduce the amount of human engagement, automated software solutions must be implemented. In the long run, especially, this can assist reduce overall operation costs by reducing the amount spent on salaries.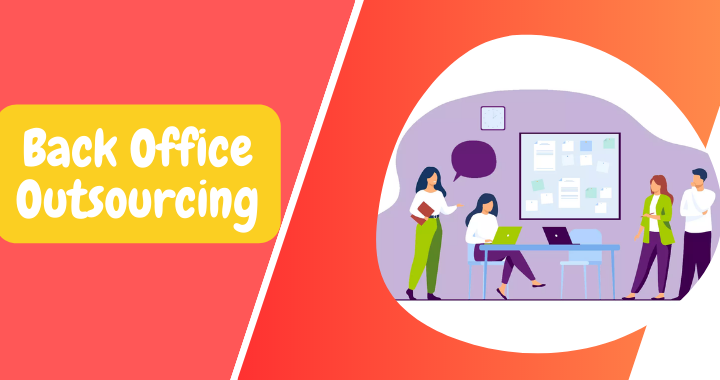 What back-office tasks are outsourced the most frequently?
Numerous back-office operations are undoubtedly utilising the possibility to profit from outsourcing due to the attractiveness of offshore back-office services.
The following are examples of common back-office jobs that businesses outsource:
1. Data entry. To complete this task, data must be retrieved from one medium and entered into a computer system using a data entry interface in another. To put it simply, it involves pasting data from one system into another. The challenging element is when data must be examined, organized, understood, or subjected to business standards before entering a system.
By outsourcing data entry work, businesses increase labour productivity and efficiency while putting more of their attention into managing their business as a whole.
2. Payroll. Payroll calculation errors are frequently the result of inexperience with the payroll process. Additionally, the crew is more susceptible to errors when they are disoriented.
Choosing an outsource back office company has several advantages, one of which is the ability to concentrate on a particular task that the client demands. Additionally, offshore workers receive the necessary training to advance their knowledge and skills. Businesses can save payroll taxes by outsourcing payroll functions while also minimising human error. This component guarantees that workers are paid accurately and on time.
3. Human resources. Outsourcing human resources helps companies streamline their hiring processes, enhance their workforce, and improve employee retention. Additionally, it encourages the creation of systems and processes as well as the improvement of human resource strategies. These benefits are made feasible by outsourcing's added expertise and accessibility to more advanced technology.
4. IT support. IT support, one of the most varied outsourcing industries, is one of the most crucial roles in every company. It's important because the staff professionally addresses client inquiries and issues.
A company that outsources IT help will have access to the most modern technological equipment. Additionally, it provides remote assistance, which may be challenging for a small business to manage. Additional benefits include having access to services for contingency plans, high-level security, and cost-effective storage.
5. Promotion. Each type of business, from startups to behemoths, recognises the value of brand marketing. However, doing so requires time.
The firm can concentrate on its main activities since an external marketing team will develop and carry out marketing strategies for all channels. Additionally, companies may unwind knowing that experts are in charge of developing and implementing their marketing strategies.
To lighten the strain on internal workers and allow them to concentrate on more crucial areas of the business, it is essential to pick back office outsourcing services. When outsourcing, perks aren't the only factors to take into account. Additionally, businesses need to know how to choose the finest back-office solutions for their requirements.
What comes next?
Businesses may profit from back office outsourcing services since they guarantee good performance and results while saving money. Data entry, payroll, human resources, IT support, and marketing is the most common back-office services that businesses that have seen the advantages of working with a third-party vendor outsource. On the other hand, outsourcing would include researching the background of your service provider, taking your budget into account, and making long-term goals.
Data mining, data entry, catalogue management, and other crucial back office tasks are all improved with Noida Exim, an Indian supplier of back office outsourcing services. We can complete any back office job of any size, and our offices are available around-the-clock.