Every day, every hour, customers contact companies for a variety of reasons, such as asking questions about a service or product, asking for help, reporting a problem, or giving feedback. A few hours can pass before some of these exchanges are finished or addressed. Some issues need to be handled right away. It is crucial to offer a variety of multi-channel choices for client communication, including voice and chat help, email support, and social media support, to meet a variety of their demands.
One of the numerous channels included in omnichannel support is Email support services. It's interesting to note that in the same Hubspot analysis, email support ranks second only to the phone as a preferred channel. Email support has been used by 62% of consumers, and depending on how frequently they use it, they may also use additional channels.
Email support, however, may be inundated with inquiries, worries, and other stray messages with varied levels of complexity, worry kinds, customer-expected reply timeframes, and many more, just like any other customer care channel. How should businesses set up a flexible, precise, and comprehensive Email support services?
Using outside support for email
Your company may be able to function at its best as it grows by outsourcing business processes, including email support services, especially from a customer-facing perspective. Delegating your email support to a third party, frequently a specialised service provider, is the process of outsourcing email support services. It's an ongoing practice that becomes increasingly helpful when your company expands and the number of email messages rises. You may improve your customer service skills in terms of speed, scope, and quality by outsourcing your email support services.
Additional important justifications for businesses to outsource email support include: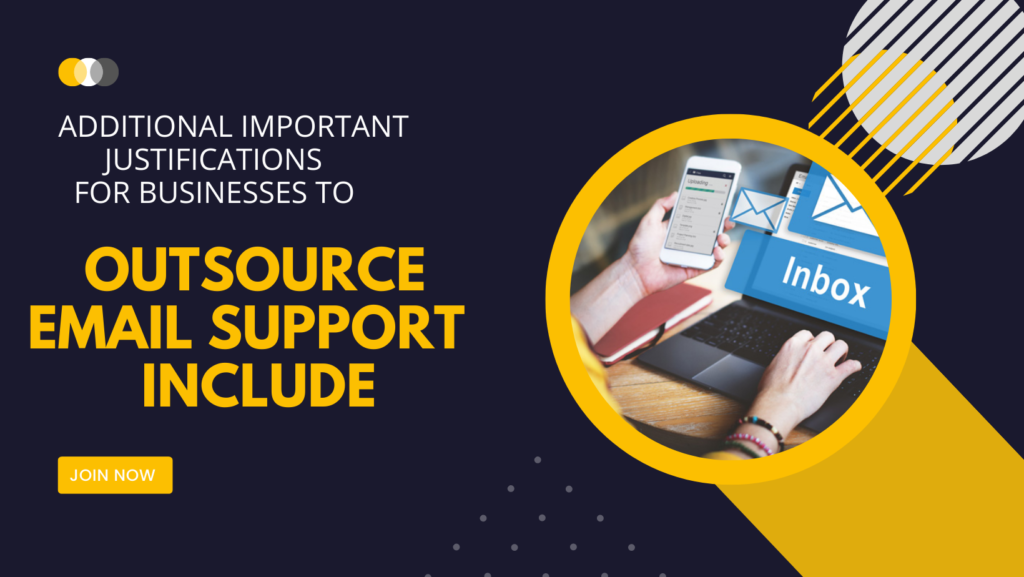 For those above the age of 15, email is a popular, dependable, easy-to-use, and transparent communication method. Anyone with a smartphone, desktop computer, or tablet may easily access it. No matter how many emails are sent, all of your questions, concerns, and criticism will be addressed when you outsource email support to customer care experts.
Building a full-time crew to handle your emails costs more than contracting out email support. Additionally, hiring, training, and managing your teams may take a lot of time. Teams that have to juggle several duties and daily deliverables often perform poorly. You may save money and time by outsourcing email support, which you can use for other elements of your company.
Many clients want to talk about their problems but are hesitant to use alternative methods like voice conversations. Their favourite method of communication is via email because it enables them to elaborate on their issues, taking the time to organise their ideas, arguments, and, yes, complaints. In a similar spirit, email support agents may respond to clients with thorough solutions.
Emails are also simple to follow because of ticket numbers and chat histories that may be used to keep track of issues that come up again. It's also possible to send papers and photographs as attachments via email, and in certain cases it's even encouraged.
Synchronous communication
Not all customers have the time to contact or chat while waiting for a customer service agent because of the lengthy wait times in some customer support channels.
When using asynchronous messaging, both parties can start, pause, and restart discussions whenever they choose. It takes the strain off of having live conversations, especially when clients are busy and can't stay on the line for enough time to speak.
You may always work with your email chat outsourcing india that is prompt, detailed, and beneficial for your clients, even when done dynamically.
Customer service has been improved.
No matter how many emails you get, your customer service representatives will treat every question and issue with the utmost attention, providing a better, more individualised customer experience that will boost the reputation of your business.
Your company has the chance to offer the greatest service and create the deepest relationships with every client encounter. Email messages can be produced in a more organised manner than conversations, which can be more spontaneous. Just be sure to thank your consumer for taking the time to write you an email and address their issues specifically in your answer.
Increased production speed and quicker delivery
Here's a reality check: putting together an internal team is only half the work done. Teaching them the ropes and getting them up to speed with your other marketing initiatives is the true problem. Finding the time (or the means) to provide new staff with comprehensive training can prove to be quite challenging in a small organisation where everything tends to be very hands-on. Consider, however, that your internal email marketing staff is unable to collaborate with your other marketing departments or offer pertinent insights. In that instance, it may seriously reduce your visibility and outreach as a whole.
On the other hand, it is a far more sensible option for you to commit the administration of your email marketing to a reputable company with a track record. Such an agency is likely to have experience managing, executing, and delivering the type of campaign you have in mind, as well as the requisite talent and knowledge to clear the way for flawless campaign management. You may significantly shorten your manufacturing time with their support. The thorough QA (quality audit) testing procedures that most of them employ also enable you to guarantee that your campaign conforms with all recognised quality standards.
How to choose the best firm for email marketing outsourcing
If you're thinking about outsourcing your email marketing, you must pick the best business to handle your email campaigns. So, how can you locate a reputable email marketing firm? There are four techniques to choose the best business to handle your email outsourcing services:
1. Review the offers and costs.
Start by looking at their packages while searching for the best email marketing firm. To make sure they offer all you need to conduct your campaign, you should check out what they have to offer.
The following are some typical items to check for in your package:
Email design
Email coding
Subject line testing
Conversion tracking
Subscriber list management
Email performance monitoring
Along with what your package offers, you should consider how much it will cost you. You should concentrate on businesses that fall within your allocated spending limit and offer you the services you require.
2. Review their resources.
When hiring a business to handle your email marketing, you should research the tools they provide.
Check first to see if the agency offers tools. To simplify your life, you want to collaborate with a business that offers email management tools. You can build, send, and manage your email marketing campaigns with the aid of a platform. You may easily manage emails from beginning to end thanks to it.
3. You should also have a look at the individuals as a resource.
You should hire a team with enough members to work on your campaign to handle your email marketing. It guarantees that your campaign receives the care and attention it requires. You may receive all the support you need in one location at Noida Exim, where we, for instance, have a team of marketers, designers, developers, and copywriters to assist you with your email campaign.
4. Take a look at their portfolio.
Take your time to review the portfolio of the firm you chose for email outsourcing services. You can learn more about the kinds of campaigns they've previously run and the outcomes they've achieved for their clients by looking at their portfolio.
You want to collaborate with a business that you are confident will deliver quality results for your email campaign. You may always get in touch with the firm of interest and request some examples of their previous work if you can't find any information regarding the outcomes their email marketing campaigns have generated.
5. Consider their background.
You want to work with an established organisation when selecting one to outsource your email marketing. You shouldn't trust any company with your email marketing campaign. You must pick a business with extensive experience in digital marketing.
To guarantee you're working with the best and maximising your ROI, you should generally collaborate with an email marketing business that has more expertise (rather than less) with email marketing.
Why Noida Exim for outsourcing email support
No matter how busy a firm is, customers want a quick response to their emails. By hiring email chat outsourcing services to qualified staff, you may reduce this delay. The following are the justifications for outsourcing our email support services:
Domain expertise: We have succeeded in learning in-depth information on a variety of fields in less than 19 years. Numerous industries, including banking and finance, logistics and distribution, insurance, the automotive industry, IT and ITES, eCommerce, retail, and health care, are served by us with success.
Experienced Team: Emails from customers regarding products and services are addressed here with the highest competence. We offer complete help with product/service verification, issue settlement, and guidance through our exceptional email support services. We can respond to customer inquiries quickly thanks to our exponential tool knowledge.
Complete Transparency: We involve our clients in the process straight away. We make sure that our actions align with your expectations, whether we're providing support or preparing. You are given access to all the inquiries and replies for your approval. Complete openness cuts down on time and expense throughout the whole process.
Customer satisfaction: Thanks to our email support outsourcing, which is available every day and night, we have won awards for customer service. We quickly discovered answers to consumer questions while maintaining the greatest level of quality. Our quick and round-the-clock services have reduced downtime for businesses.
Outstanding Work Culture: The remainder of the staff is given instructions on how to compose emails so they follow them exactly. The crew is experienced in handling client difficulties and frequently asked questions. A constantly updated database with a list of commonly asked questions and their responses is updated based on current interactions.
Receive top-notch outsourced customer service
Being more visible and making sure your goods and services are used by as many people as possible are probably top priorities for small businesses. Few channels are as capable of helping you realise your goals as email marketing, with a stunning ROI of 4200% and a total of 4 billion consumers globally. Email marketing is a gift that keeps on giving, aiding in the development of solid, long-lasting client connections as well as the stabilisation of your brand's image and identity.
However, before you begin to benefit from email and live chat support services, you must decide whether to recruit an internal email marketing team or outsource your email marketing needs to a company. While both solutions will, of course, let you use the best email campaign services available, additional considerations enter the picture, making this debate much more complicated than it first appears.
Give your email marketing a boost right now.
Using email marketing is a great way to nurture leads and get them to convert for your company. You need a dependable partner to handle your email marketing campaigns while you're busy operating your business. Noida Exim is the only firm you need to consider if you're seeking for the appropriate one.
A personalised email marketing campaign for your company may be created with our team's over 500 marketing specialists' support. We can design campaigns that get results because we put our clients' needs first. We have generated more than 7.8 million leads and over $3 billion in sales for our clients over the last five years. You may have faith in us to generate outcomes that will support the digital growth of your company.
Are you prepared to write more engaging emails? To talk with a strategist about our email marketing services, reach out to us by phone or online now!
FAQs
What email support services are available to you?
In addition to technical support, order processing, customer service, and information dissemination, we also provide a variety of email support services. We also provide specialised services for medical practices, such as patient enquiries and appointment booking. Due to the professional and effective email handling skills of our staff, client satisfaction and retention has increased.
How quickly can you respond to a single email?
We have a pre-drafted email that will be sent out in response to frequent inquiries and will be customised to your preferences. For emails that call for specific replies, we will modify the email and forward it to you for approval. The replies will be forwarded upon approval. This whole process ought to take a short while.
Can you offer both chat support and email support at once?
Yes, we offer email support as well as chat support services India, with separate fees for each. Additionally, call centre and email support services can be combined. Please get in touch with us for additional details.
Is my email data secure with you?
While outsourcing call centre services, we recognise that you may have several worries. We take considerable precautions to guard against accidental, unauthorized, and illegal disclosure of your company's information. To secure our customer data, we abide by ISO 27000 standards and regularly monitor our legal compliance. Therefore, rest easy knowing that your company's data is safe.
How do you make sure our email support service is of a high calibre?
Our agents get continuous training and development so they can give top-notch service. We also track and analyse email data using cutting-edge technology to find areas for improvement and implement the appropriate adjustments. We think we can guarantee your clients receive the greatest email support service by investing in quality control.
Do you have the ability to handle multilingual emails?
Yes, we have a staff of multilingual customer service representatives that can respond to emails from customers in different languages. This enables us to provide businesses with international client bases first-rate email support.